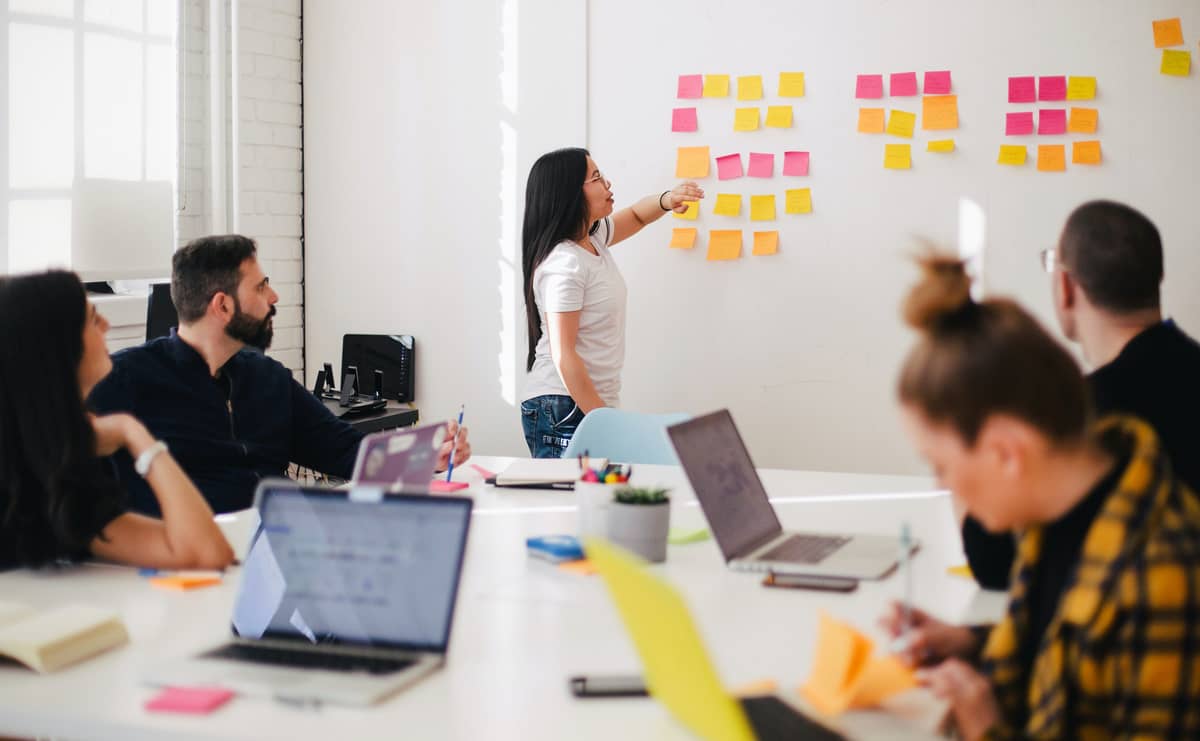 Product Managers are responsible for product strategy, validation and analysis. They help prioritise what products and features to build, as well as build out the roadmap with solutions to the business goals and problems to solve.
Day-to-day, they lead discoveries and pre-builds to ensure Founders are building the right thing for the right reason and that the solution you build has a large enough serviceable obtainable market (SOM) to achieve your targets. Product Managers also work alongside Founders, delivery and tech teams to test, learn and adapt products and solutions as they grow.
Duties and responsibilities of a Product Manager
Product Managers have strong stakeholder management skills and are specialists in validating and transforming Founders' business ideas into fully functioning businesses. This could be building an MVP from scratch or digitising an existing business. The day-to-day responsibilities of a Product Manager include:

Producing market, competitor and customer research, analysis and profiles.

Advising Founders on how to take their idea to market using LEAN start-up principles.

Planning and executing software product builds by scoping, user story mapping and managing prioritisation.

Building wireframes and prototypes as well as recommending the best approach and team.

Creating roadmaps that clearly articulate the product strategy to Founders, including risks and learnings. High-level roadmaps are translated into actionable batches of work for engineering and design teams to provide solutions in trackable stages.

Partnering with Product Designers and using UX principles to create wireframes to describe the user journey and create a prototype that can be taken into a full UI design.

Supporting commercial pricing and value propositions.

Rapidly assessing situations and creating plans for progress.

Working with the rest of the team on tasks like documenting specifications and product testing.
Common misconceptions in Product Management
Whilst they work closely with Founders to develop the product vision and have a wide understanding and control over the project, Product Managers are not the "CEOs of the product" and don't directly supervise other teams. Product Management is a collective effort - they are part of a team and incorporate everybody's insights. Their focus is on the strategy for product success - that includes adapting it to the market if necessary. Although they can inform and guide the Founders through research, they don't make final decisions alone.
It's common for non-technical Founders to get confused by some roles when building a team as the skill-set from a Product Manager often overlaps with other positions. For example, Product Managers and Delivery Managers are not the same thing.
Do I need a Product Manager?
It's common for Founders to think they have the perfect idea ready to be built, especially when they've often spent months and years thinking and researching before they look into development. Research and testing carried out by an external and unbiased stakeholder, considered and addressed before you start developing, not only reduces risk (therefore saving you time and money) but puts investors' minds at ease.
The Product Manager will test assumptions by encouraging small and iterative builds, and then build on what has been learnt. This ensures the correct solution is developed, ultimately saving time and money in the long run.
What are the risks of not having a Product Manager?
Without a Product Manager, projects face substantial risks that can result in building the wrong product in the wrong way, building too fast without testing the assumptions or marketing, and having to rebuild if the learnings are found out too late. In summary, the success of any project relies heavily on the Product Manager.
Product Managers are key to producing high-quality digital products from beginning to end as they drive strategy, research and take up strong day-to-day executions - so getting product management right is crucial to any company.