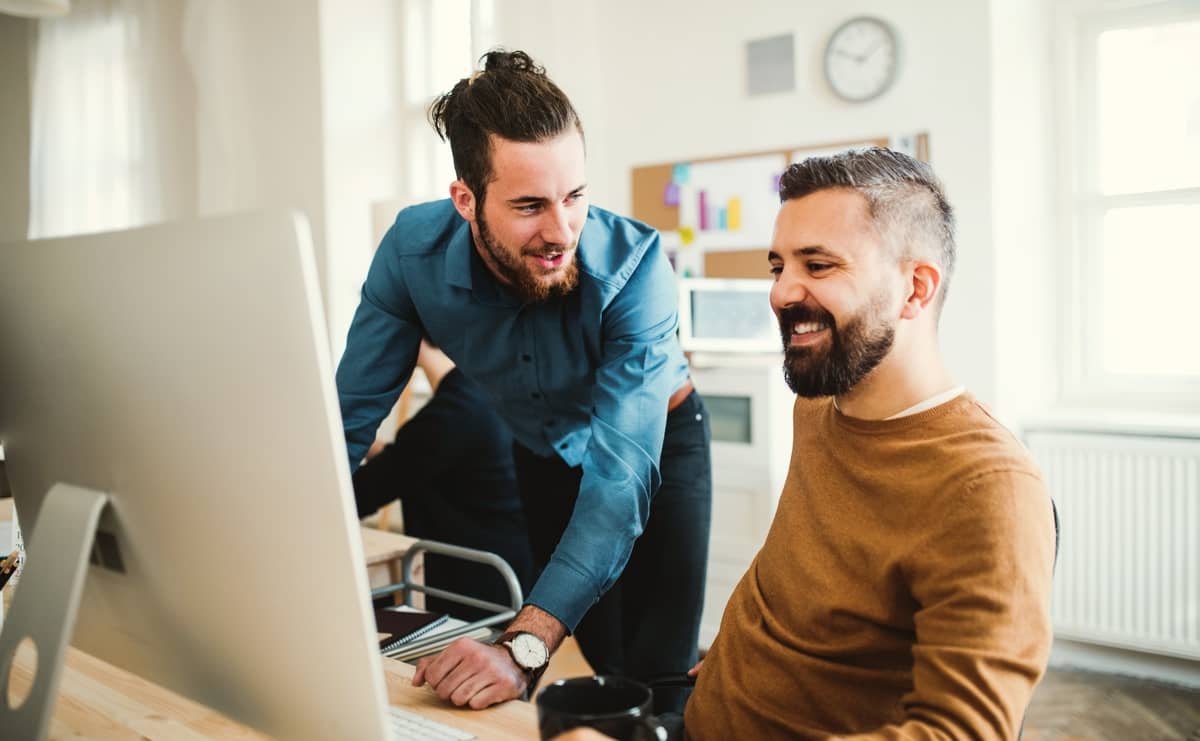 In short, Product Designers help create new products and improve existing ones. They are an important part of a cross-functional, collaborative product development team, involved in both the Discovery phase and Delivery phase of Product Development.
Before any code is written, Designers can help the team with their knowledge of prototyping, user research, usability testing, personas and branding. Once decisions are validated, they use their User Interface, User Experience, illustration and communication skills to help bring the product to life and empower engineers to build great products.
Duties and Responsibilities of a Product Designer
Our Product Designers are specialists in creating digital products, and they help shape the vision of the things we build at Founder + Lightning. Some of their day-to-day responsibilities include:
Defining and scoping user needs and business goals for the products alongside Product Managers and Founders, as well as other team members.
Advocate for and facilitate usability and research sessions with users to help us design the right product for the right people based on data.
Supporting and feeding into collaborative workshops with clients.
Developing information architecture, sitemaps and user flows.
Illustrate and communicate complicated design solutions across use cases by creating wireframes,

prototypes

, process flows and high-fidelity mock-ups.
Designing attractive and usable user interfaces for mobile and web apps.
Develop and maintain detailed design docs, including specifications, assets and style guides.
Collaborating with Product Managers, Developers and other team members to make sure we create great products and together achieve the best possible user experience.
Common misconceptions in Product Design
Product Design is not just all about drawing. However, this is one of the many aspects involved in creating a successful design. When creating a new layout, Product Designers research market trends and your audience to really understand how your product will work for them.
Product Design is a creative process. It starts with an idea or ideas and ends with selling the product. As the design expert, they simplify the process for the rest of the team. Product Designers will do research to bring the product concept to life in the best possible way, whilst considering any constraints.
Do I need a Product Designer?
Product Designers focus on experience, so they can help software firms create products that look great and work well. This can translate into happier customers and a better reputation. Product Designers understand how to collaborate well with Founders, product managers and graphic designers, and create systems that eliminate errors and make it easier for a team to do its job. They also know how to translate ideas into assets that communicate information in a simple yet impressive way. That helps to make your product consistent and polished.
What are the risks of not having a Product Designer?
By not having a Product Designer in your project, you risk overcomplicating a product, not properly considering UX (including accessibility and usability) and not having any delighters. In short, you risk having a product that users can't access the value of.
Having a Product Designer in your team, especially from the early stages of the project (when usually the most critical decisions are being made), increases your chance of building something worthwhile, usable and desirable for your clients. Your Product Managers will have the support they need and, as a result, your users will have a more positive experience.
Why is it essential to involve a Product Designer from the early stages?
Involving a Product Designer from the early stages will help you break down your customers, users and market and then communicate that data in a way that is easy to understand and share with the wider team. By working together with the PM, Designer and Founder in workshops, you can shape the brand, roadmap and user experience together so they are aligned to your go-to-market strategy.
If you lead a user workshop alongside your Product Designer, for example, you can learn more about the roadmap of your product and why it should look and feel a certain way. You can be sure you understand the customers' pain points and iterate on designs to deliver real value. This also helps build trust between you as a Founder and your users to align your vision with clients' feelings and experiences.