Announcing our first Spark cohort of 2020
This year we quietly launched our first incubator programme at Founder and Lightning: Spark.
Spark is a 6 week, rapid, early-stage launchpad for passionate startup Founders looking to rapidly validate their startup idea and ultimately save time and money in the process
We invited a small group of early-stage Founders to embark on a 6-week programme to validate their business concepts through a series of rapid experiments helping them to clearly articulate the problem they are trying to solve and guiding them to validate their core assumptions prior to determining their MVP solution.
We have been blown away by the progress made in such a short space of time from each of the Founders we have had the pleasure of working with — ranging from creating a fully functional MVP app, acquiring first customers and generating revenue and obtaining hundreds of survey responses and early adopters.
Aura
Aura gives your loved ones a place to celebrate your life, share memories and have peace of mind after you have passed.
Aura has been designed to help you prepare your memories, important information and connect with loved ones before you die. The Aura platform not only caters for those wishing to manage their own death: family, loved ones and friends are also central to the experience.
In just a matter of days, the Aura team identified their core assumptions to validate and set out creating a series of experiments to begin the validation process. After just 2 weeks the Aura team had hundreds of respondents to their survey with the majority of them agreeing to participate in a follow-up call or meeting to discuss their responses in more detail.
Aura are currently looking for participants to help them continue their research and validation phase. If you or someone you know might be interested please visit their website and sign up.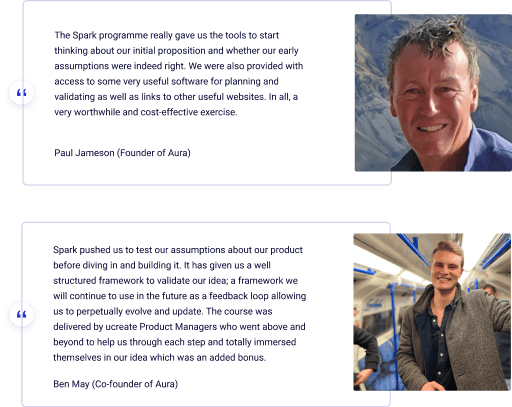 Prop
Launching soon, Prop is the UK's first doctor supported community for informal carers. Prop has committed to creating a nationwide doctor supported community of carers that allows you easy access to both their medical expertise as well as the amazing knowledge of fellow carers.
Prop understands how vital informal carers are to the person they are caring for. Their new responsibility can be life-changing and, at times, overwhelming. Prop is here to share with you the tools to overcome day-to-day challenges and give you the strength and confidence to look after yourself and your loved one.
Prop is being created with the community at its heart so all our carers gain the value of shared experience and have easy access to Prop's medical expertise and support.
The Prop team are currently reviewing the research and insight gathered during the Spark programme whilst starting to develop an early prototype to test with a small group of beta users.

Brillea
Brillea believes small businesses should have access to awesome marketing.
Brillea's intelligent marketing platform has been created to help startups and ambitious small businesses grow through digital marketing. They exist to make high-quality digital marketing affordable and accessible to exciting.
Brillea's team and future AI-driven platform will run and manage all your performance marketing campaigns.
We do all the hard work but put you in control.
Brillea's extensive background in digital marketing and growth hacking has been distilled from their previous life as an agency into a SAAS offering lower the barrier to entry for smaller businesses and startups.
Brillea set themselves an aggressive goal over the 6 weeks — 'get two customers by the end of the programme'. Brillea set out building a concierge MVP in a matter of weeks using just a landing page, registration flow using Typeform and a Google sheet. After experimenting in what they do best with some digital marketing they managed to secure and close their first two leads in just 5 weeks.
Brillea is continuing to refine their process and learn from their customers before considering building out the entire platform.
If your looking to achieve growth with high quality, affordable performance marketing give Brillea a try today.

PetPardon
PetPardon was formed to raise awareness of the number of animals, many who are perfectly healthy, that are being euthanised every day at shelters in the US, Canada and the UK.
PetPardon will reduce the need to euthanise by making it easier and quicker to share a pet's plight and pledge for the safe rehoming or rescue of an animal at risk.
With the PetPardon app, animal advocates can rescue, adopt and donate money, giving at-risk shelter pets a second chance at life.
The PetPardon team managed to create their MVP mobile app during the 6-week programme using an off the shelf no-code solution. They are now in the process of testing their MVP with users and gathering insight before moving on to the next phase of our programme. We have been blown away by what they have managed to achieve in such a short space of time.

Applications are open throughout the year — and the programme is now entirely remote.
Kickstart your start-up journey today and dramatically reduce the amount of time and money getting your product to market. Get in touch!